Safest Trampoline Springfree
*This post is sponsored by Springfree Trampoline like always all thought and opinions are of my own
Hi Friends, I'm so happy to share Springfree Trampoline today on the blog. Today I will give you all the details of why we wanted a trampoline and all the benefits that come with choosing Springfree. We have been searching for a trampoline for 2 years now. My husbands main concern was safety and how he was going to mow the grass no lie. Well he quickly got over the mowing grass part when we discovered Springfree at our local store here in Atlanta. We were able to view the size and quality of the trampoline plus all the safety features. As a kid my husband say he always got stuck in the springs of the trampoline and would injure himself. We were ecstatic to find Springfree the only spring less and worlds safest trampoline. Springfree was created by a dad who wanted safer options for his kids. I was happy to find a good safe trampoline for the whole family can enjoy.
In our home we noticed the kids getting way to much screen time. We wanted them to be outdoors getting fresh air and enjoying their childhood. We decided on Springfree as they released their new custom color trampolines this past October. There is a few different options to choose from as for sizing and the shape of the trampoline. Springfree has 4 models available. We went with the jumbo square. It also comes in 7 different colors you can mix and match to your style. You can change the legs and frame to your liking. We decided to do custom Atlanta Falcons colors on the rods. Black and Red. Let's go Falcons!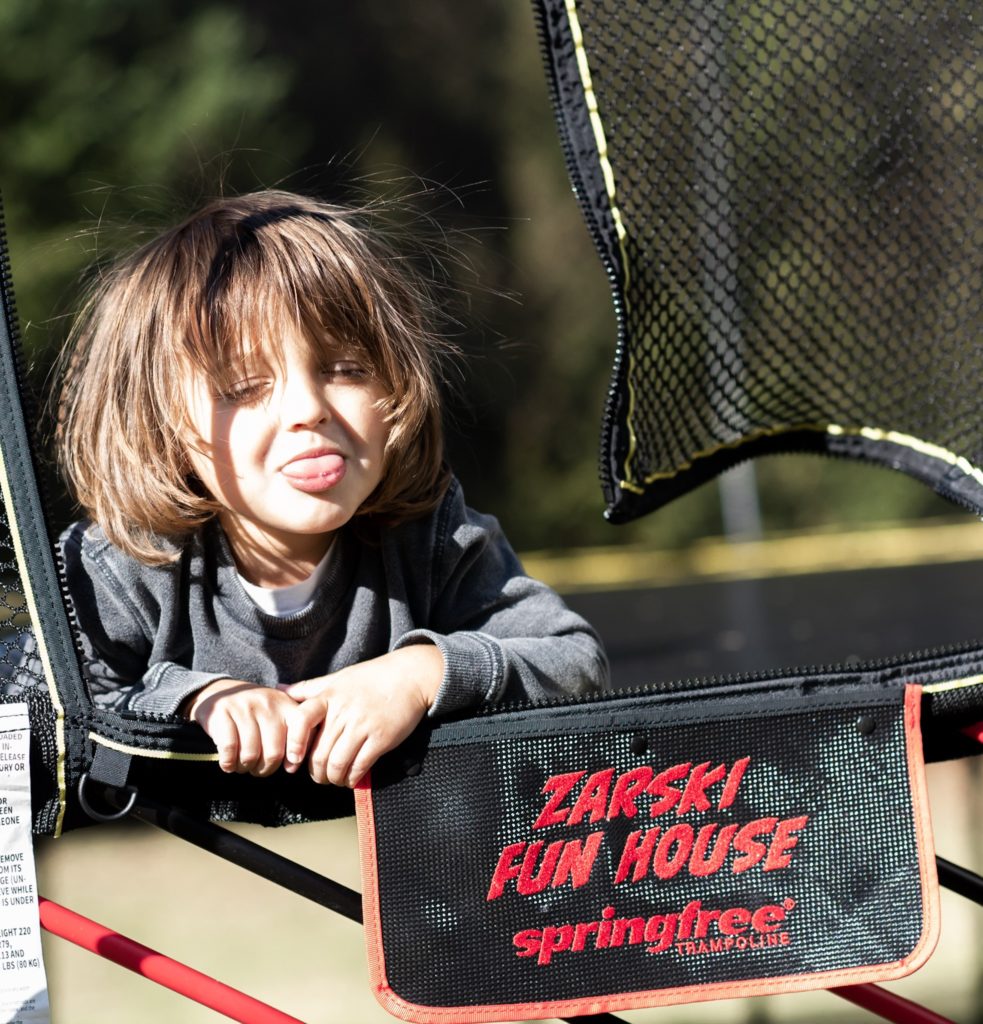 We also customized the name plate of our trampoline upon ordering. We named it the Zarski Fun house. Just fyi it can take up to six weeks to receive but ours arrived sooner than we expected. So we felt this was a safe and perfect for outdoor time where we spend time as a family having fun.
Biggest Question? What makes it Safe?
When I told my dad to go jump on the trampoline this past weekend he asked "Why is it so safe? After doing all this research and visiting the Springfree store I was happy to tell him.
Spring less – There are no springs, you got that right only rods no getting caught or cut in the coils.
Net- The safety net has long rod around the trampoline so it will through you back in if you fall into the net. The net is UV stabilized as well so can withstand the harsh sun.
Built to last– it is fully inspected before it leaved for delivery ensuring all parts are complaint. The steel frame is rust protected so no chipping or peeling occurs. Comes with a 10 year warranty
Stronger than Steel: The net and mat rods are and advanced composite material that is 3 times stronger than steel and can with stand tons of jumps.
The safety honestly blows me away but what interested me the most was trampolines used for exercise routines. When I read up on trampoline eczersize I literally freaked out. Did you know that 10 minutes of jumping is like going for a walk or run for 30 minutes. Hello I can always loose some extra pounds. See facts below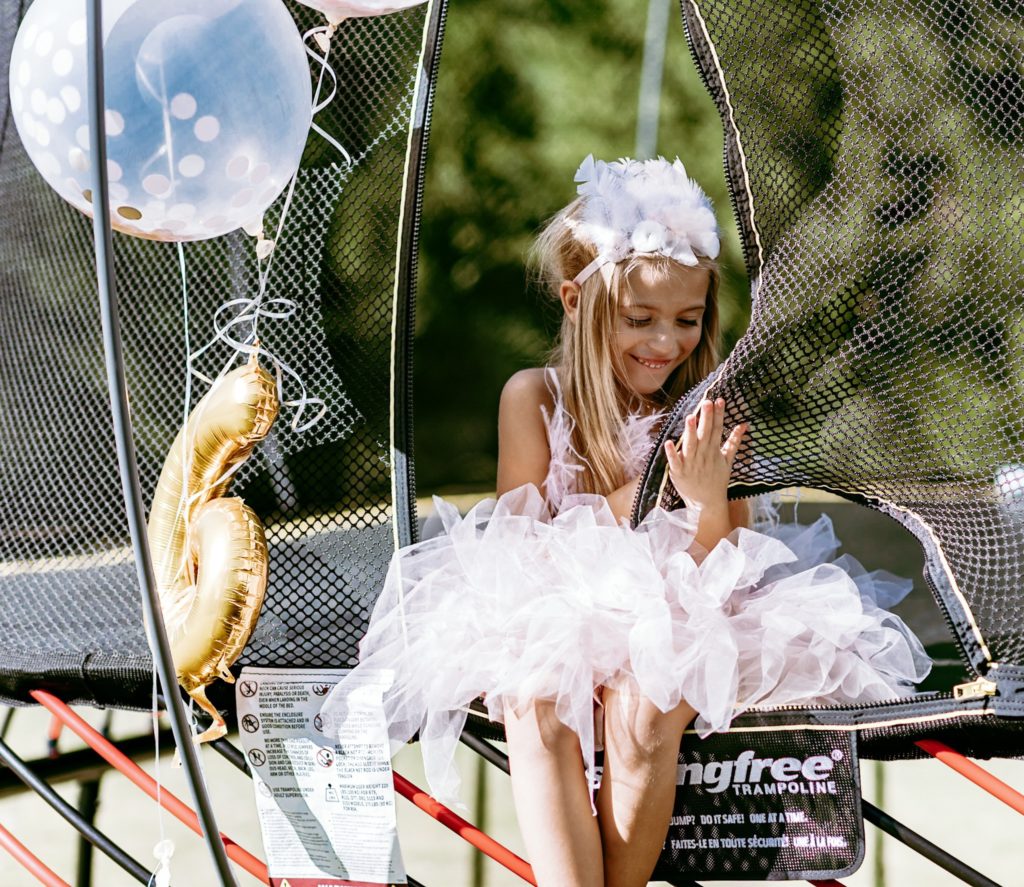 Interesting Facts about Trampoline induced exercise
Fun way to loose weight and keep fit
Increases lymphatic flow to the body
Increases detoxification to the body
Helps reduce Cellulite
Strengthen Skeletal System
Increases oxygen to the body
I have to say I never knew jumping on a trampoline has so many benefits yet fun too. We decided to surprise the kids with the new custom trampoline for their birthdays. You can see the surprise in the video attached. It made my day to see the happiness on their little faces. The 1st day it arrived we had Springfree do a custom install to make sure it was put together properly and safe. I then surprised the kids and we went to town jumping. It was intense we all were sweating and laughing so hard. There is something about jumping that makes you smile. We even did Milanca's homework on the trampoline last week. We sat quietly and went over some school things. Milanca just started cheer leading this year so I'm eager to see how the trampoline will help her in her develop form in her new sport.
If you are thinking of getting a trampoline not only for kids but adults too this Springfree trampoline is a great choice. We have spent countless hours laughing and making some of the best memories as a family. If you are search of holiday gifts now is the time to order. I will keep you guys updated on any Black Friday sales they may have during the season. Be sure to follow me on Instagram to see how our Springfree trampoline journey is going. I will post stories for you as well,
Like always as me any details below. I will be sure to help! Thank you for reading along
-xoxox
Candace
Here are some holiday sales coming your way! Black Friday Sale (11/22 – 12/1) (Up to $649 Value): Receive between $200-350 off any trampoline (depending on the size). Plus get a free Flexr Step ladder and up to $200 off delivery/installation. USE PROMO CODE: USBF19 (in-store and online)
Happy Shopping!!!