Keep Skin Young- Alchemy Aesthetics
Hi Guys,
I finally bit the bullet and got my face ablated. OK what is that? I know what you are thinking. I have done tons research trust me. A little background for you guys. This was very hard for me to write this blog post and show you my flaws. We all have areas that are not our best. I wanted to put this out here for anyone who can relate or feel my pain. I struggled with acne as a kid. It was awful and people always made comments about my skin. I did so many different treatment that failed me. As an adult I still struggle with acne. Its something that really bothers me deep down but will define me. After turning 30 I really had extreme guilt about getting older and dwelling on my childhood skin issues. I know work in the healthcare industry and technology has come so far. I'm forever determined to take care of my skin now than later. So if you have followed me for a while than you know I work in a hospital and try to follow the trends of what the health experts recommend. Kayla at Alchemy Aesthetics was highly recommended by some co-workers of mine. I was eager to see all that she offered. I also just wanted to see if she can make my 30 year old acne prone skin young again.
Meet Kayla
My favorite aesthetician ok well shes the only one I ever had but she is totally awesome.
I met Kayla a free consultation I was so impressed by Kayla's mannerism and sweetness. I was somewhat nervous as I have never had anything cosmetic done to me before beside an eye brow wax hahah! She was so calming and extremely informative. See I'm the type of person that like to be educated and she did exactly that every single appointment. So I have to say I learned a lot about skincare and how the treatments I received worked. She really helped get my skin on a fantastic regimen as well as prevention creams so I do not with stand any further damage.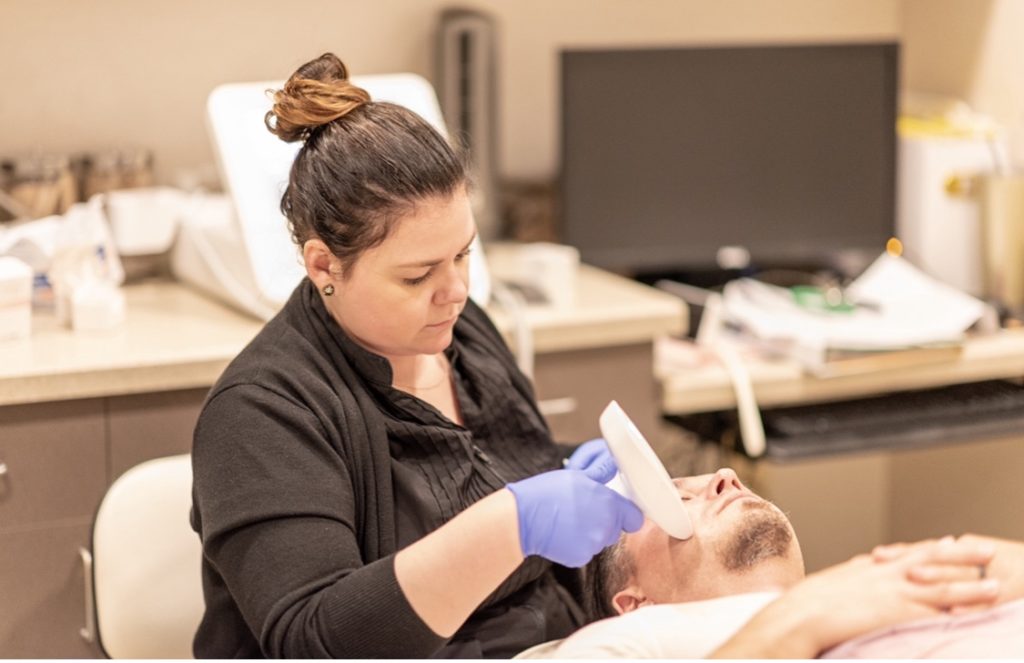 The treatment I did is called Venus Viva. We decided for my 1st time to go with a skin resurfacing treatment that has like no downtime at all. It works by pressing tiny pins into the skin while the device simultaneously delivers heat, creating micro-wounds basically stimulating the skin's collagen-producing a nice healing response. I did two treatment 6 weeks apart right in time for spring and the summer months. The treatment did not hurt at all. Kayla numbed my face with some cream and let that sit for a few mins. She then test an area to let me see how the treatment will feel. I felt like tiny little pins but not hurtful at all. She then did all over my face and under my eyes. The issue I was trying to correct was years of teenage acne some scarring and dark pigmented areas. As you can see below I have dark spots all around and some redness to my skin.
After the treatment my face was red and had felt like I has mild to medium sunburn. Kayla gave me Alchemy Aesthetics skin care line to help heal my face. I used the skin care regimen and the next day I was slightly red and my skin started to feel kind of scaly or dry. I keep up with the skin care and instructions Kayla told me. The next week my skin started to look so clear and dewy. My husband even noticed my skin guys so that is huge as he never notices anything hahah~ I did the second treatment and same thing occurred accept a week latest my skin was so much brighter, tighter and looked like I was 18 again. I'm really pleased with the results and I will for sure do once a year to keep my skin from aging. I also will intermittently just do around my eyes to keep them looking fresh and glowey plus less wrinkles.
Ok so I love to be open and transparent with you all. Since I got my facial treatment done. I also went back for some filler. Guess where I did it? You got it my lips!! My top lip was always thinner so I got a little poof to it now. Kayla recommend I see Ivette who I fell in love with immediately. I will post my results as well below.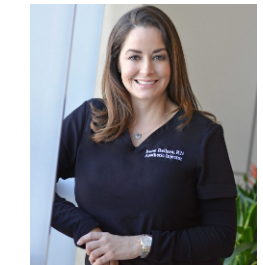 I would recommend if you are in the Atlanta area or ever in town to book a consultation with Kayla. Alchemy aesthetics has a full line of other cosmetic options as well such as fillers, botox, skin resurfacing, tattoo removal. Visit the site for more details or make an appointment today. Call 404-257-9888
P.S If you mention my name CAN1LOVE you will get 20% off any service.
-Thanks for reading
xoxo
Candace