UPPAbaby Jake Double Stroller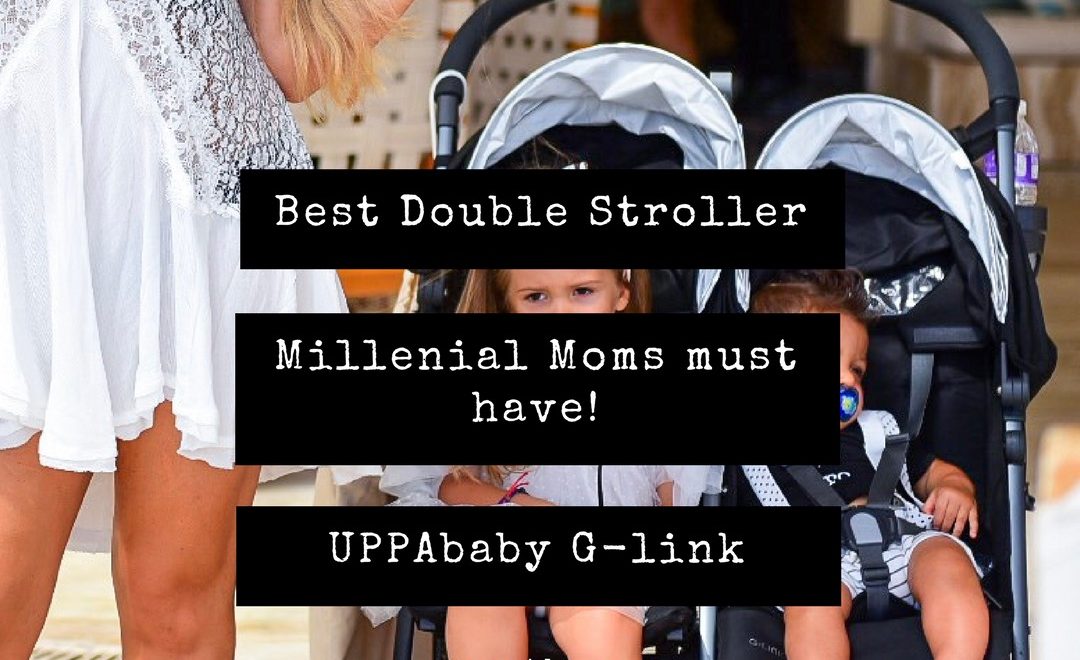 Hello Mama's
I am so glad you decided to read my review on UPPAbaby double stroller! As a millennial mom with two kids I am always searching for the latest and greatest and of course the convenience factor. If you are expecting or have kids close in age then this is the post for you! Also if you are a grandmom or caretaker read on ladies! Ok Let me start off by telling you it took me a long time to research which kind of double stroller I wanted. I was looking for a double stroller when I was pregnant with my son. My daughter was only two at the time so I knew a double stroller would come in need. When I buy products for my children I want to let you know that safety is my first concern. So I go straight to the reviews and features of the product. When I was looking at a double stroller system I found in the features lots of them to be extremely heavy, extremely large (not to compact) and most importantly expensive some double stroller costed anywhere from $550-2000k. At the time, I did not have the money to purchase one so we went on with our lives and carried on with a single stroller when my son was born. I honestly can say this was the best thing I have ever done because that infant face is so short-lived. Basically, what I mean by the infant phase is when the child is in the car seat and you wanted to connect to the stroller. Trust me it is like the first 12 weeks or so that is the critical point. During that time we either had my older daughter walk or I put her in the bottom basket of our single stroller. At about four months I felt my son had more control and was able to sit in an umbrella stroller.
That is honestly my favorite word -"Umbrella stroller" let me tell you why!
Space
First off I do not have an SUV so I really like to save space. The UPPAbaby umbrella stroller does just that it folds up and stands by itself making it easy to maneuver in and out of the car with two kids for any kind of shopping events or travel.
Between having a diaper bag car seat and other heavy items I love how lightweight and easy to use this UPPAbaby stroller is.
The reclining feature is honestly a lifesaver in itself! The reclining makes naptime is a success. If we are out and do not want to stop our day because of the children's naps I just reclibe back the seat hand them pacifier and blanket and off to sleep they go
So some of you may not like that it's side-by-side instead of front to back. I can only speak from experience however for my family The UPPAbaby stroller being side-by-side helps me because my older daughter can pop the pacifier back in my son's mouth if it falls out. Win!! Also I find that they help entertain each other and comfort each other. Recently on our travels to the Dominican republic we were strolling through the airport and a woman stopped us to say how sweet it was that they were holding hands and my son was passed out asleep. So this feature may not work for all families but I wanted to point out the greatness it did for us.
As I stated earlier I am all about safety and protection. When walking outdoors the kids are exposed to the sun. I love having the overhead canopy shades that extend pretty far and cover most of their body so they are protected from the damaging rays of the sun. This was extremely important when traveling to the islands because the sun was extremely hot and we were closer to the equator. I did not want my kids skin getting burned. Also if we were in a restaurant or somewhere where the light was too bright and I wanted them to come down or nap I just pulled the overhead canopy over them to help block the light. The canopies also have a little clear window built in that you can pull back and see what the kids are doing while you are strolling them.
Hello! Storage! is so greatly important to me when purchasing products. I honestly can never have enough storage as I seem to tell along anything and everything with me. My husband thinks I am extremely crazy for all the stuff I bring but honestly if there ever was some sort of devastation I may survive the week with the stuff I bring. This UPPAbaby stroller has two big bins on the bottom for storage. I sometimes put my diaper bag or extra stuff I may need underneath. Also any shopping bags I may actually while I'm at the stores.
Cup holder
I know this seems like a small feature but it is one of the best features to me. I always encourage my family to drink lots of water so we never leave the house without a water bottle. Oh and can I tell you sippy cups and baby bottles as well. So the cupholder attached to the stroller is absolutely amazing I use it all the time if it's not holding a drink it's holding my cell phone hahahaha!
There you have it some of the cool things I love about this UPPAbaby Jake double stroller. Now let's talk about travel!
*Getting a massage on vacation and everything I needed was right beside me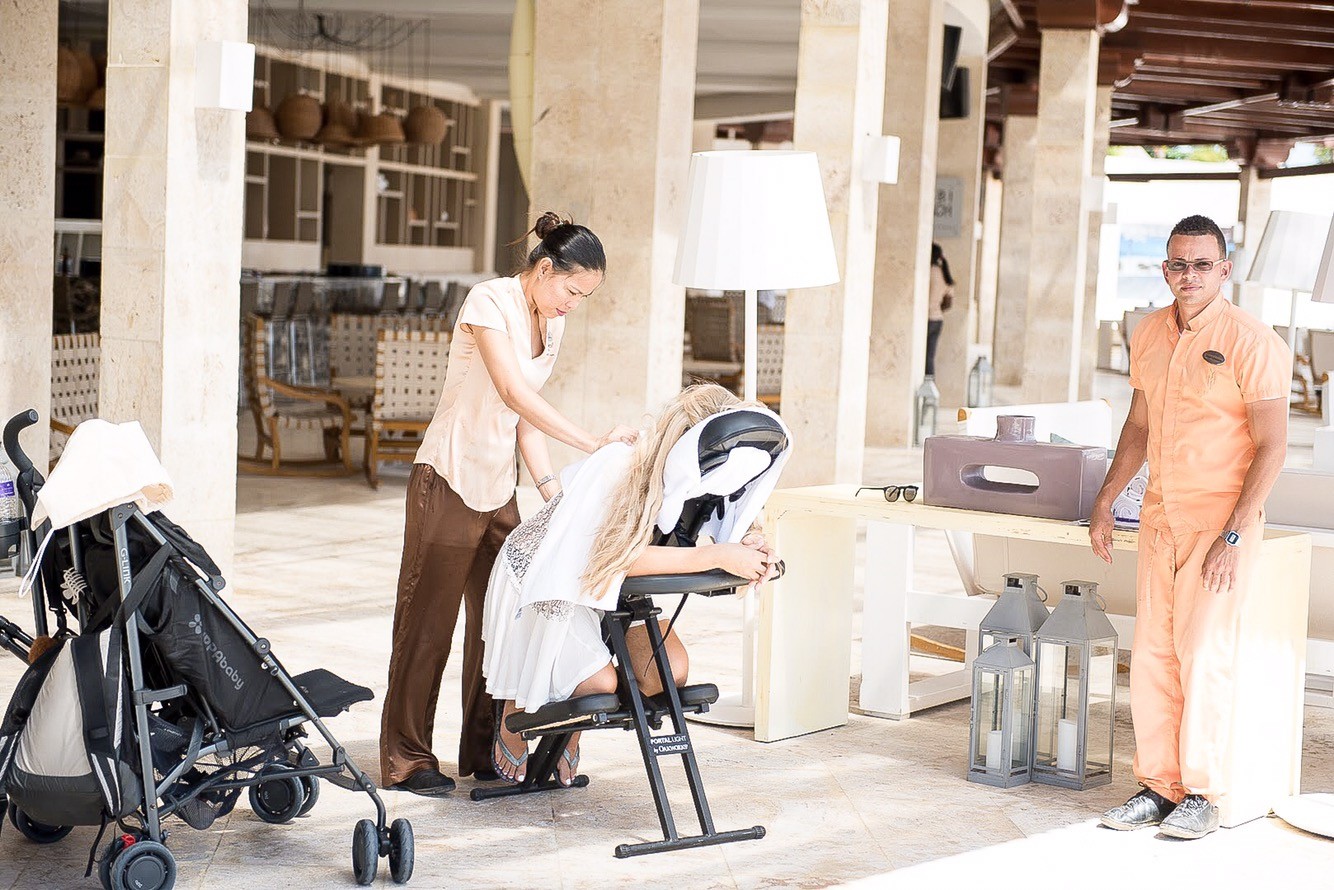 Win!!!

So we recently traveled to an all-inclusive vacation and the beautiful island of Dominican Republic. From start to finish our travel was made easy because of this stroller. Getting through the airport was a breeze because it was so lightweight and compact.
Once we arrived at our resort we used our
UPPAbaby
double stroller 24/7. Walking around this huge resort can be tiresome and I honestly had to carry nothing in my hands because we place the kids in the stroller and any other items we need it we stored in the storage plus our cocktails fit right in the cupholder. Can I tell you we also brought the stroller onto the beach. Yes ,you read that right my husband carried it onto the beach because the kids wanted to sleep in the stroller rather than the cabana. I was perfectly fine with that since the canopy shade helped block the exposure from the sun. So literally my kids slept three hours each day on our vacation in the stroller. YAY!!!!

From the time we woke up and went to the restaurants for breakfast lunch and dinner we had so many people and other families stop and ask us about our stroller. There were other families from around the world that were traveling with two kids as well however, they had to single double strollers with very little storage. My husband was so funny because he was talking with so many other dads about strollers so we made an inside joke that we were getting "old"hence on vacation talking about strollers for millennial parenting convenience.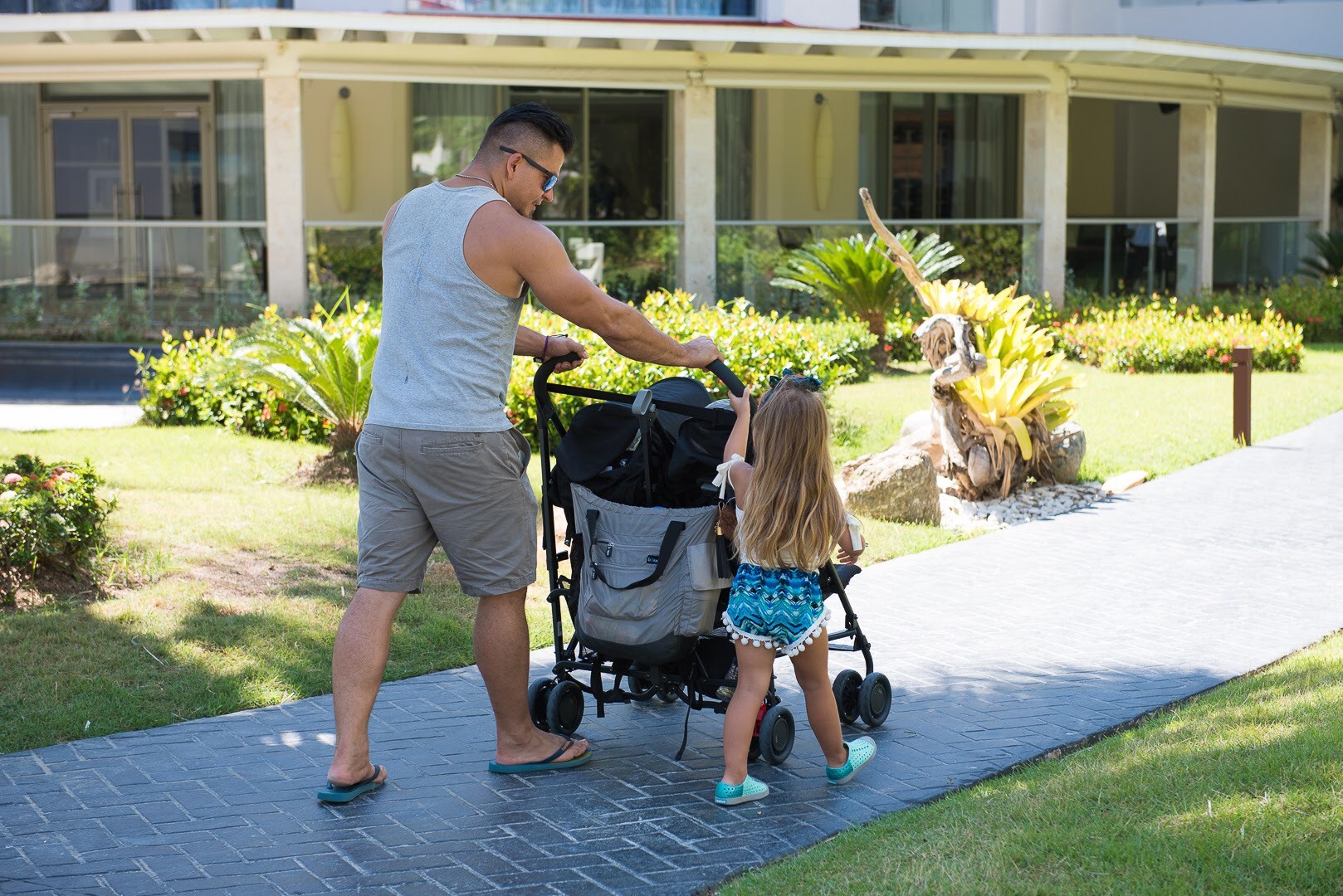 OK moms my experience can help you as well! I am so obsessed with this UPPAbaby umbrella double stroller. It honestly is my saving grace at the moment. I would not go to many stores all at once to run errands because of getting the kids in and out and traveling situations. Now however it is a breeze to go in and out of stores. Below I have attached some of the features which are very important to me when purchasing a product I love to look at the product details! Any questions please comment below? You can shop the stroller via links!