Rec Tec Grills
Hi Guys,
I'm so happy to bring this to the blog. Like always thanks for reading along and keeping up with me. Today we are talking all about family time cooking outdoors and the grill that makes it all happen. Let me let you in on a little secret……..
So most of my readers know I'm from New Jersey so I live off of pasta, meatballs, cannolis and all the Italian goodness. To be honest there really is not that great of barbecue up north or at least none that I ever tried. Since moving to the south HELLO!!! I have an obsession with good ol' smoked delights. You guys if you feel me it's amazing. My hubby and I would at least eat out at the local barbecue restaurant in town 3 times a month or more its that good. Well not anymore….. Im so excited we have a new family/ hubby wifey hobby.
OK OK! Im sure you can guess by now what it is. We grill together but not on any grill. The best grill ever! Rec Tec Grills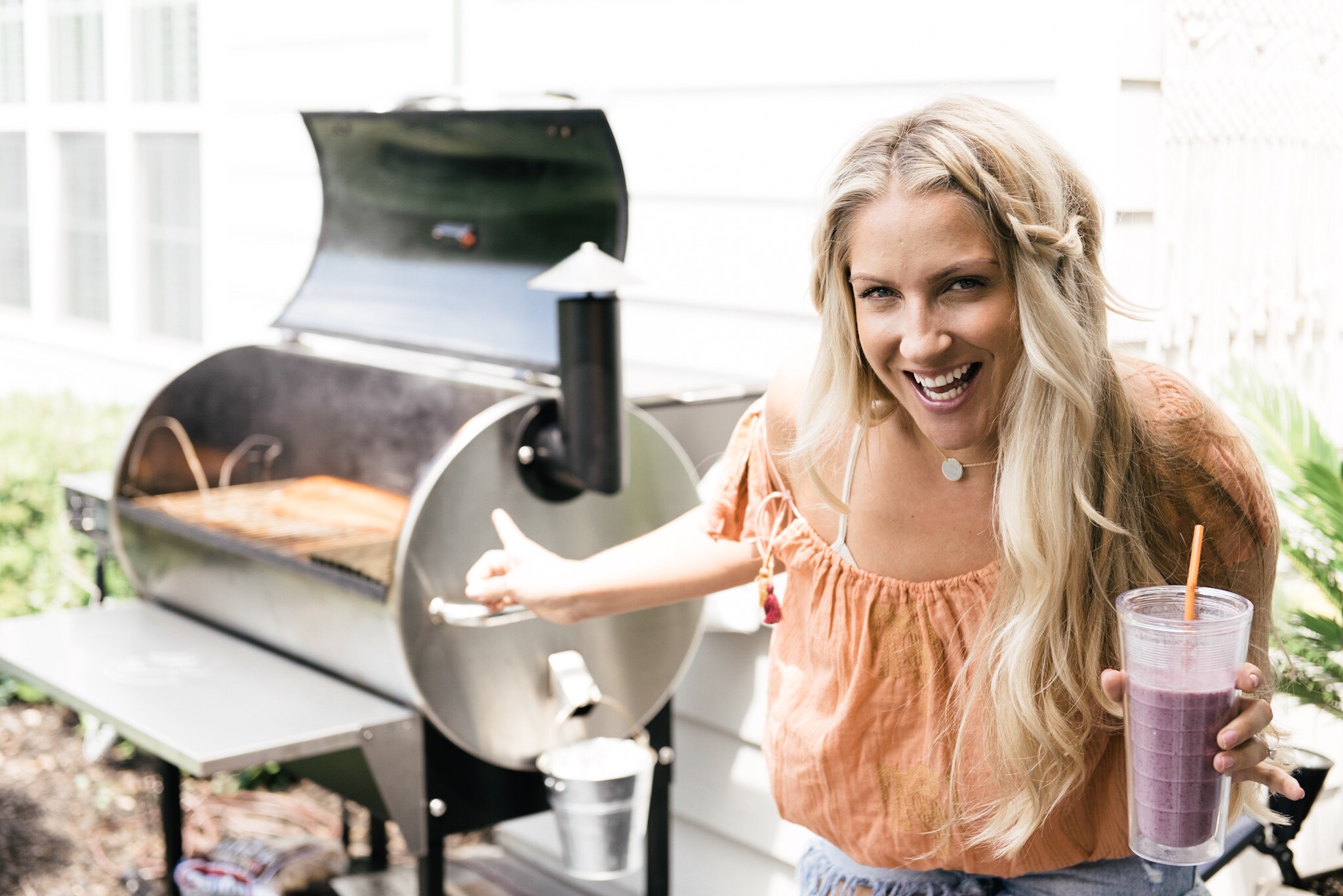 If you know me I live off reviews so my hubby and I when looking into getting a smoker we did some hardcore research. One of the grills we looked into getting was a Trager but after finding Rec Tec Grills we were sold. By far does this grill have all the bells and whistles plus its quality is incredible. I would suggest watching this video 10 Things you need to know when buying a pellet grill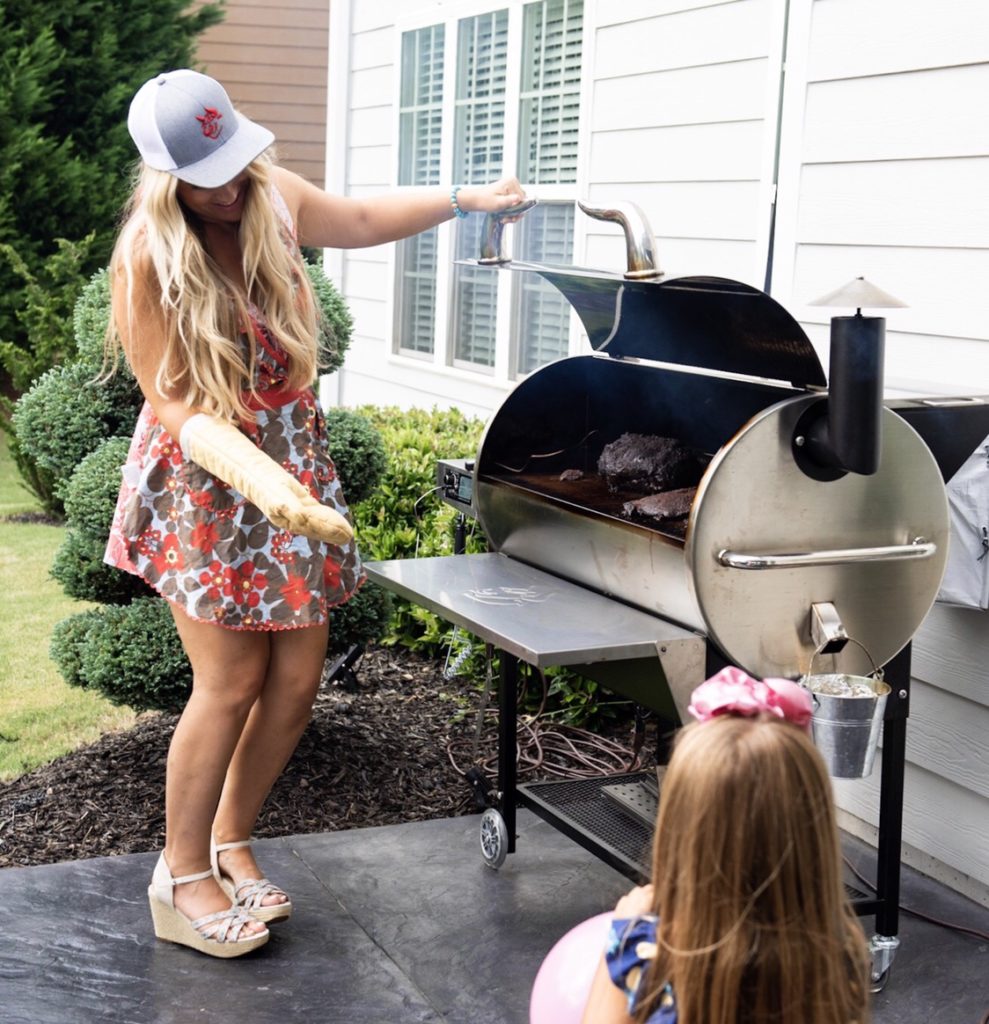 Reviews
I have done the reviews trust me we spent countless hours watching, reading all about other competitors grills.
Here are some links to reviews I have read
https://www.youtube.com/watch?v=3uMZsUhfX9Y
https://www.youtube.com/watch?v=GOBG467QRjs
The main reason we wanted to start this hobby was of course our love for grilling but,  also we built out our patio last year and spend so much time outback so why not invest in a smoker. My house seems to be the party house on the weekends. I'm the oldest of 4 kids and my siblings love to come over and get down with signature drinks, food, music and a whole lot of love.
Upon ordering the grill it was so easy. Free Shipping was huge came on a freight truck and delivered in my driveway.  I posted a video below. My hubby watched this video while putting the grill together upon delivery.  I highly suggest watching it when buying this grill. He basically said it was a breeze assembling however, it was hot because we live in that Georgia heat. Thats ok I love to see him do some work. No but for real it was not hard at all he put it together in under 40 mins. WIN!!!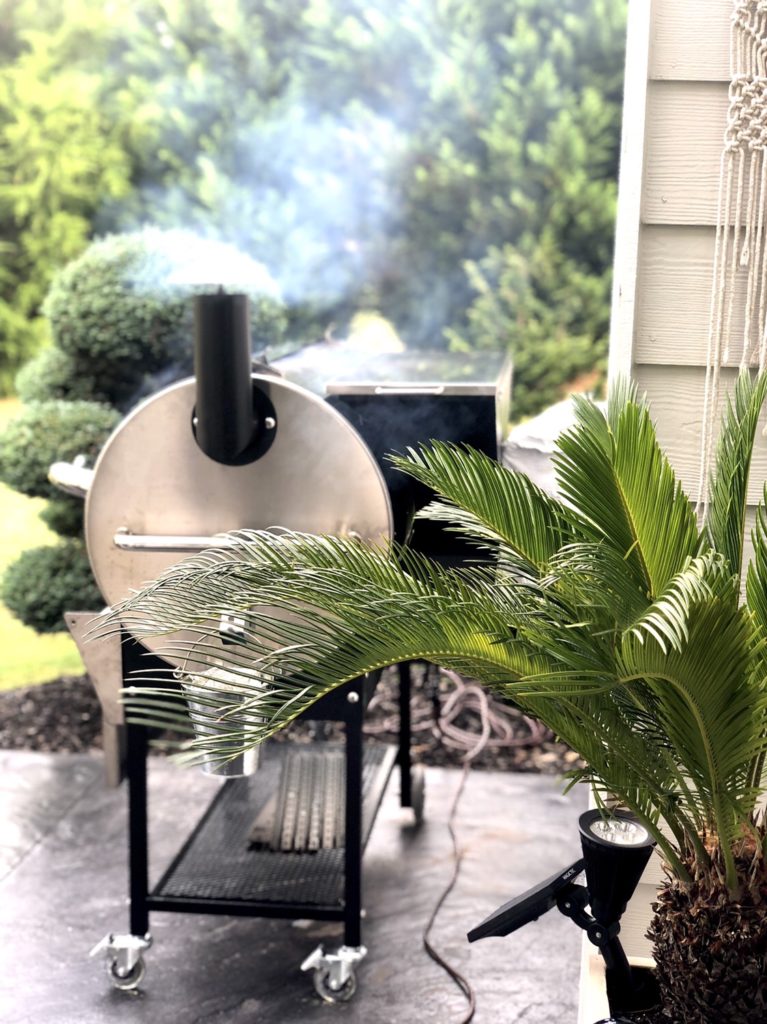 1st Smoke
Being new to the smoking game. There is apparently something called "The 1st Smoke" or at least that what I call it. It is where you season the grill and put it at  the highest temp to cook of the newness of the grill. Hence "seasoning the grill".  For our 1st smoke we seasoned with bacon a real fatty meat and let that cook. By the way the bacon the next day was so good in our smoked Gouda omelet.
Ok ladies I know what your thinking this is a guy hobby. NO WRONG! One of the reasons we picked this grill is because I can use it!  Yes the wifey can grill too. Ladies, Moms, Grannies, Sisters, Aunts you all can do it. You press the button to turn on and then control by the app the rest of the time. On our normal gas grill I would never go near it I was so scared I would catch on fire. I have cooked on this grill over 20 times so far and each time it was incredible.
So let me tell you more the app – oh the best app ever. Its a life savor it tells me the temperature and I can adjust it anytime. It will give me graphs of how long my food was cooking and what temp. Its just pure genius and makes my mom life so much easier. I literally let a roast cook all night while I was a sleep and it was done in the morning for me to take to a party.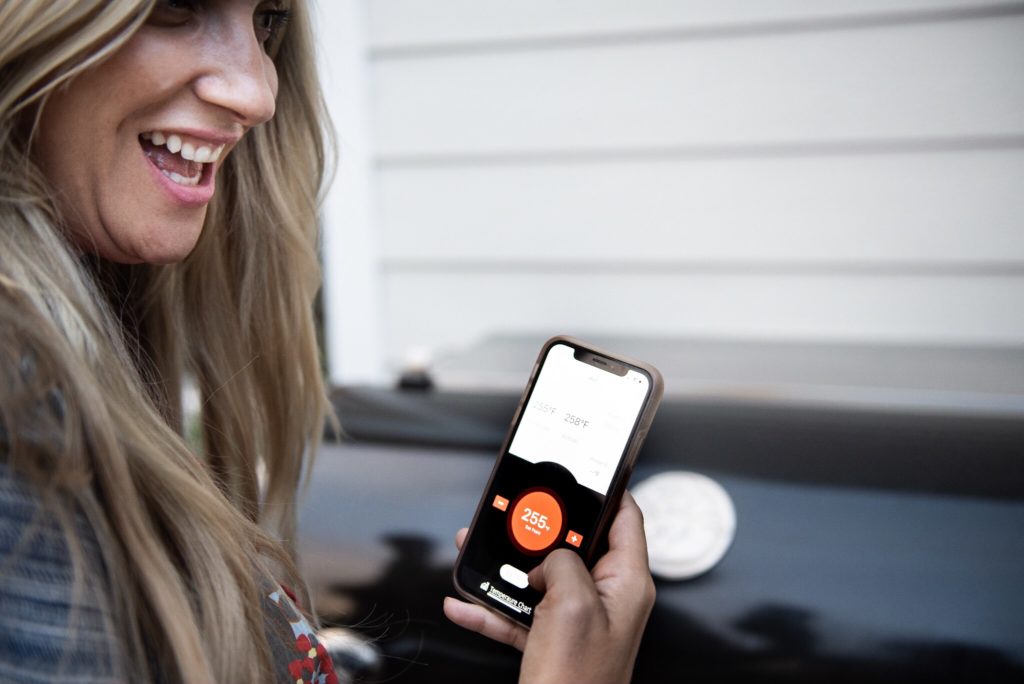 So as of most of you may know I have a full-time job. I wear tons of hats. I'm a mother, daughter, blogger, wife, sister, aunt, cousin and list goes on. So anything that can make my life even the tiniest bit easier I'm all for it. I can now plan to make lasagna put it on the grill to bake and it will be ready for dinner. Now where the fun starts will be all the recipes I will be cooking. Which brings me to my next blog post recipes from my Rec Tech Grill.
Here is a video to show you how my hubby and I cook together.
Until then here is the grill I have its called The Bull RT-700…also here is some recipes directly from the chefs at Rec Tech Grills.  
If needing seasonings, or any rubs, sauces I'm completely obsessed with theirs. No MSG guys and taste amazing!
Ok help me out…..
Tell me some of your favorite grilled recipes I love to hear from you I may just make your recipe next.
-xoxoxo
Candace