Entertain with Chick-fil-a
Hi Guys,
*This post is sponsored on behalf of Chick-fil-A like always all thoughts and opinions are of my own.
The holidays bring lots of family and friends to visit from all around the world. This year was extra special as we had my younger sister and her family in town for three weeks. My baby sister Blaire traveled all the way from Berlin, Germany to spend some quality time with our family. She comes only once a year so I love to make it a superb trip. This year I had my two nephews, one age 3 and the other 15 months. I had prepared myself for months planning a menu for different days of the week for a total of 10 people each meal. I also wanted to be health conscious of what I picked to make sure the kiddo were getting the best nutrition as well.
One of my sister's favorite eateries is  Chick-fil-A  which she always craves when she comes to visit. Plus feeding a crowd you need to call in the Chick-fil-A trays to the rescue. Chick-fil-A has a catering menu that offers a variety of options for all your guests needs.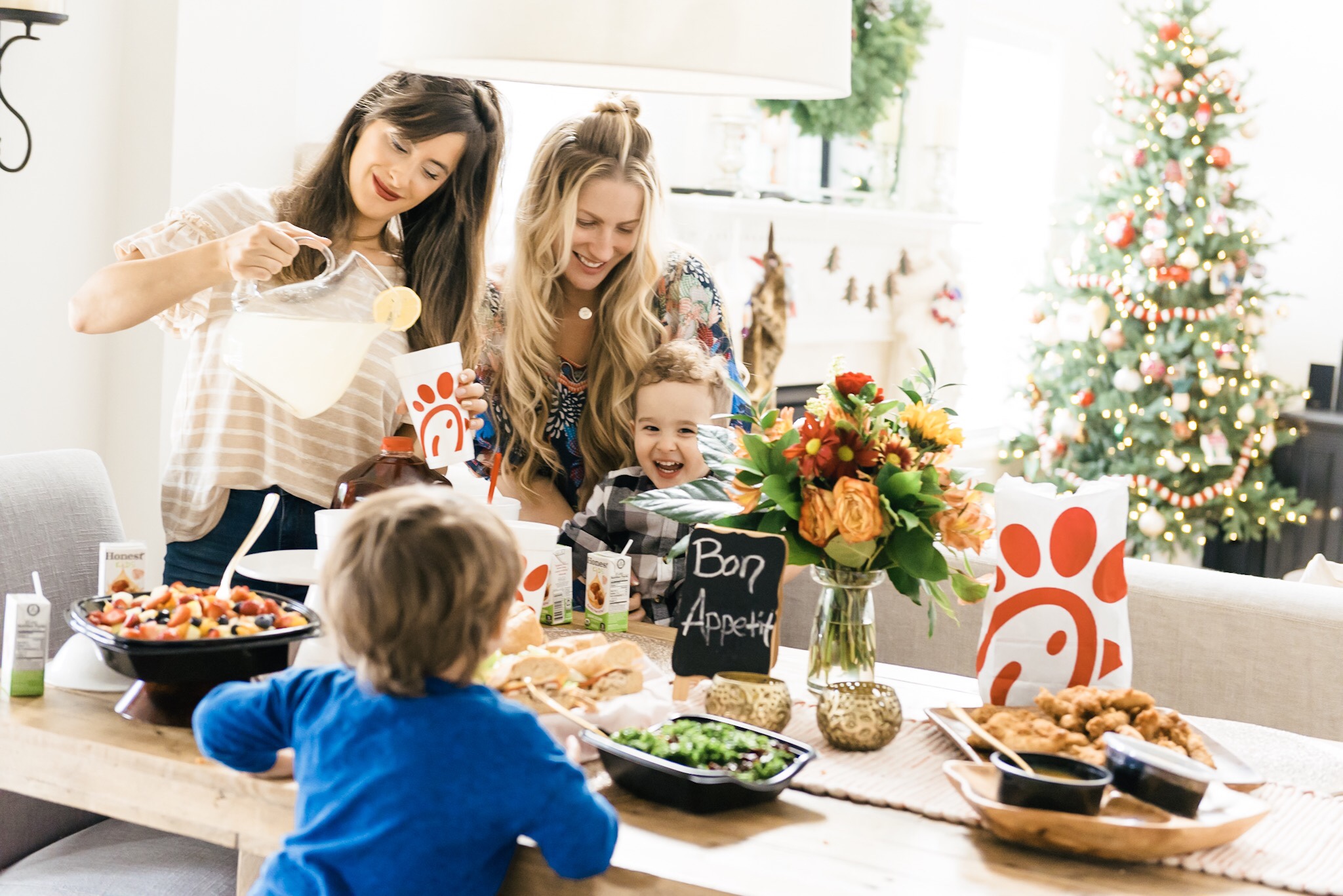 I thought I would surprise her with a fun in home catering party full of Chick-fil-A
This was my first time doing a catering order, and guys ,it was extremely simple. I placed my order one week ahead of time online and set the perfect time. Pickup was very easy and the people who work at my local store are always a pleasure.
Ok now for the catering menu. You can see the full  Chick-fil-A Catering menu here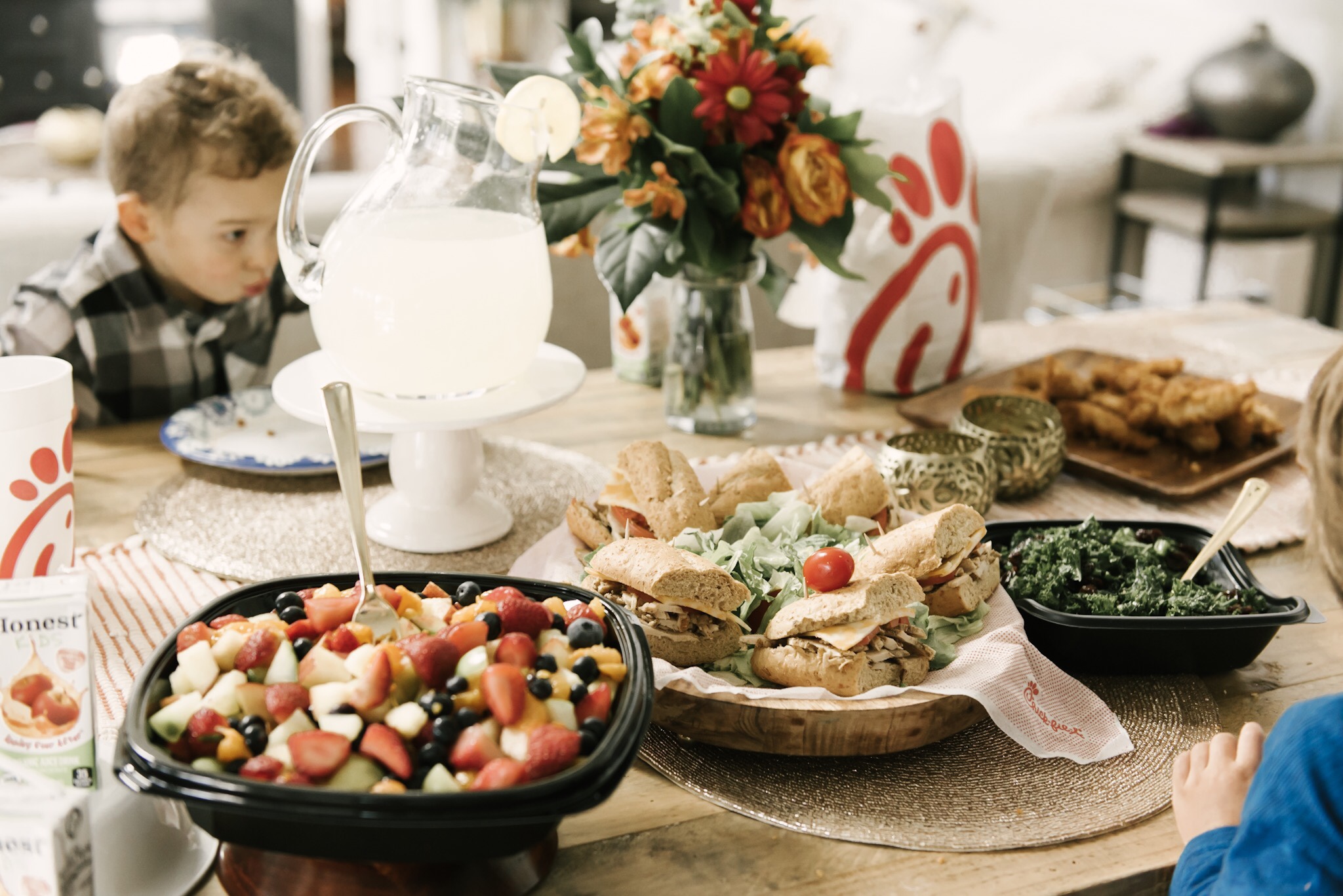 The items I chose are listed below. with nutritional info as well.  I had to go with the Chick-n-Strips Tray  because they are breaded by hand. Yum so good! I think it's a great feature the catering menu has to offer and knowing the nutritional facts is something I always look for these days.
Chick-n-Strips™ Trays-
per Chick-n-Strip
120

CALORIES

6

G

FAT

7

G

CARBS

9

G

PROTEIN
Fruit Tray
per Tray
2410

CALORIES

35

G

FAT

509

G

CARBS

22

G

PROTEIN
Spicy Chilled Grilled Chicken Sub Sandwich Tray
per Half Sandwich
210

CALORIES

6

G

FAT

24

G

CARBS

16

G

PROTEIN
Superfood Side Tray
per Tray
430

CALORIES

13

G

FAT

73

G

CARBS

12

G

PROTEIN
Gallon Beverages- Unsweetened Tea & Lemonade
2090

CALORIES

1.5

G

FAT

549

G

CARBS

2

G

PROTEIN
The portions were extremely large and perfect for feeding 10 people plus kids. I ordered some organic apple juice for the kids just in case they did not want lemonade. I do not know about you but growing up and now I LOVE Chick-fil-A  LEMONADE. It's made with just sugar, water and lemons. It's absolutely delicious!
If you are having some friends or family over  for the holidays Chick-fil-A has everything you need to create the perfect breakfast , lunch or dinner for entertaining your guests.
Thank you for reading along! I hope you choose Chick-fil-A for your next catering event!
-Love Candace