Dining Room Makeover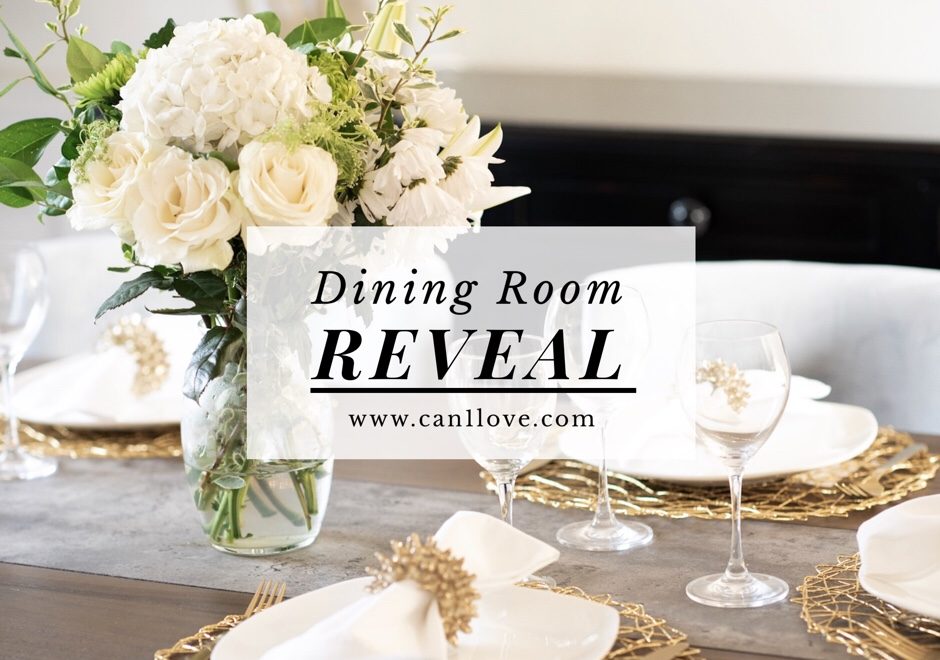 YAY, YAY, YAY!!!!!! You guys have no idea how excited I am to share my dining room. Let me tell you all about it. So 1st off this room got a serious major rejuvenating face lift. This was on my list since we moved in the house. I have always wanted a beautiful space for family gatherings around the holidays or even small get together. I come from a very close knit family and we love to EAT! So it was a must I have nice dining space to make memories in. In this blog post I will tell you all about the products I used and some quick design tips I have learned along the way. So thanks for reading along and I hope this post really helps if you are doing a room- makeover.
Beware here is the BEFORE. It does have fresh paint though.
Meet the Design Team
For this reveal I used Dipped Interiors a full service design company that believes in function, style and comfort exactly what my family and I are all about. Dipped Interiors is a best friend team. You can read all about there journey and design business here  I literally could of not have remodeled my room without them.  Vickey had been my mentor and so patient yet accommodating. Based out of North Carolina we did all the design consults via internet. They responded quickly to me always right away. They provided me with budget conscious decor yet fabulous quality. I really fell in love with how they quickly understood me and what I like.  I have to say I love that they pushed me to go out of my comfort zone and select decor I would have never even of imagined in my home.  I will never do another home project or revamp a room with out them. Seriously where were you guys when I was decorating my kids rooms
The Vision
Let me give you a little bit of the real here. I do not live in mansion but we have a 2600 square foot home. My dining space is quite small. So I had to really watch the measurement of items I chose for this room.
Vision: Classy, timeless yet modern with a small bohemian touch, rich colors that bring a happy cozy feeling
Ok if you feel my vision then you get my drift. Honestly, I just wanted it to be a room to share good meals together and feel airy yet classy.
So let me share with you the vision boards and trust me it was so hard to make up my mind. There is so many styles I love but what worked for my room just worked if that makes sense.
Idea Boards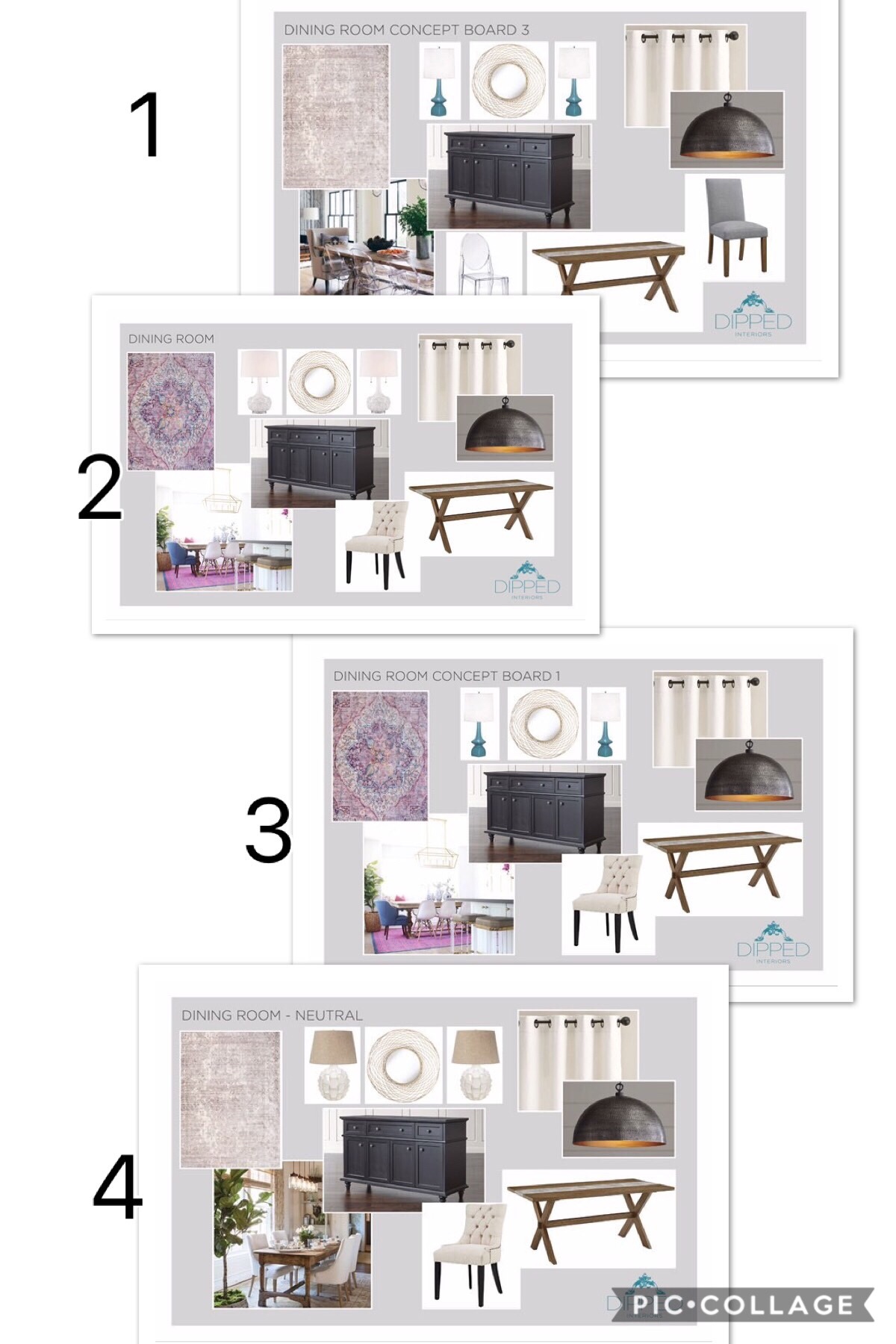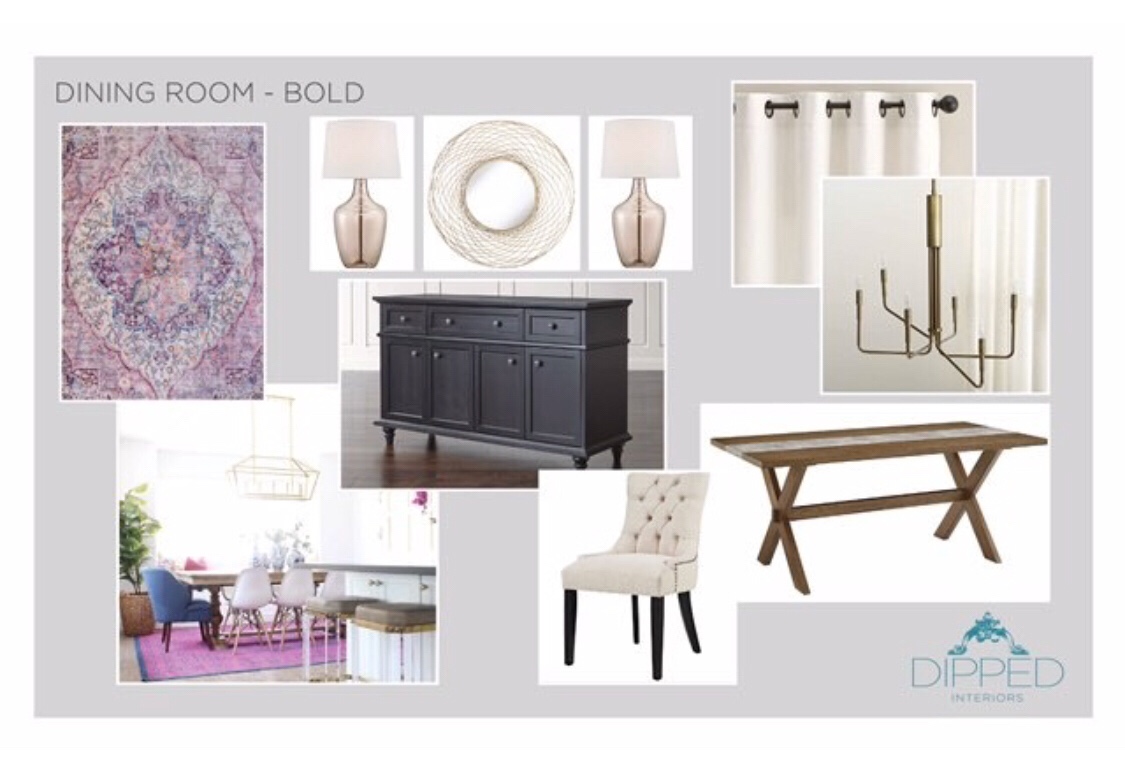 Project Focus
Working with the design team we started out with the table 1st and then added all the rest into the room. For the table I chose a farmhouse style budget friendly dining table by Dorel Living 
Dining Table
The table has an industrial look with a faux concrete center.  The base provides lasting stability while the top of the table showcases a beautiful collaboration and a weathered rich wood finish. I love the industrial twist on a classic yet timeless look. Here is the dimensions if you are wanting to see if it will fit in your room
Assembled dimensions: 72" W x 36" D x 30" H
I also think this table is perfect for a new family or even apartment living. It can really go with any decor depending on the style of chairs you choose to go with it. Dorel Living has chairs to match perfectly however they are sold separate. One more thing if I may add is they have a one year garentee on all their products which is bonus for me.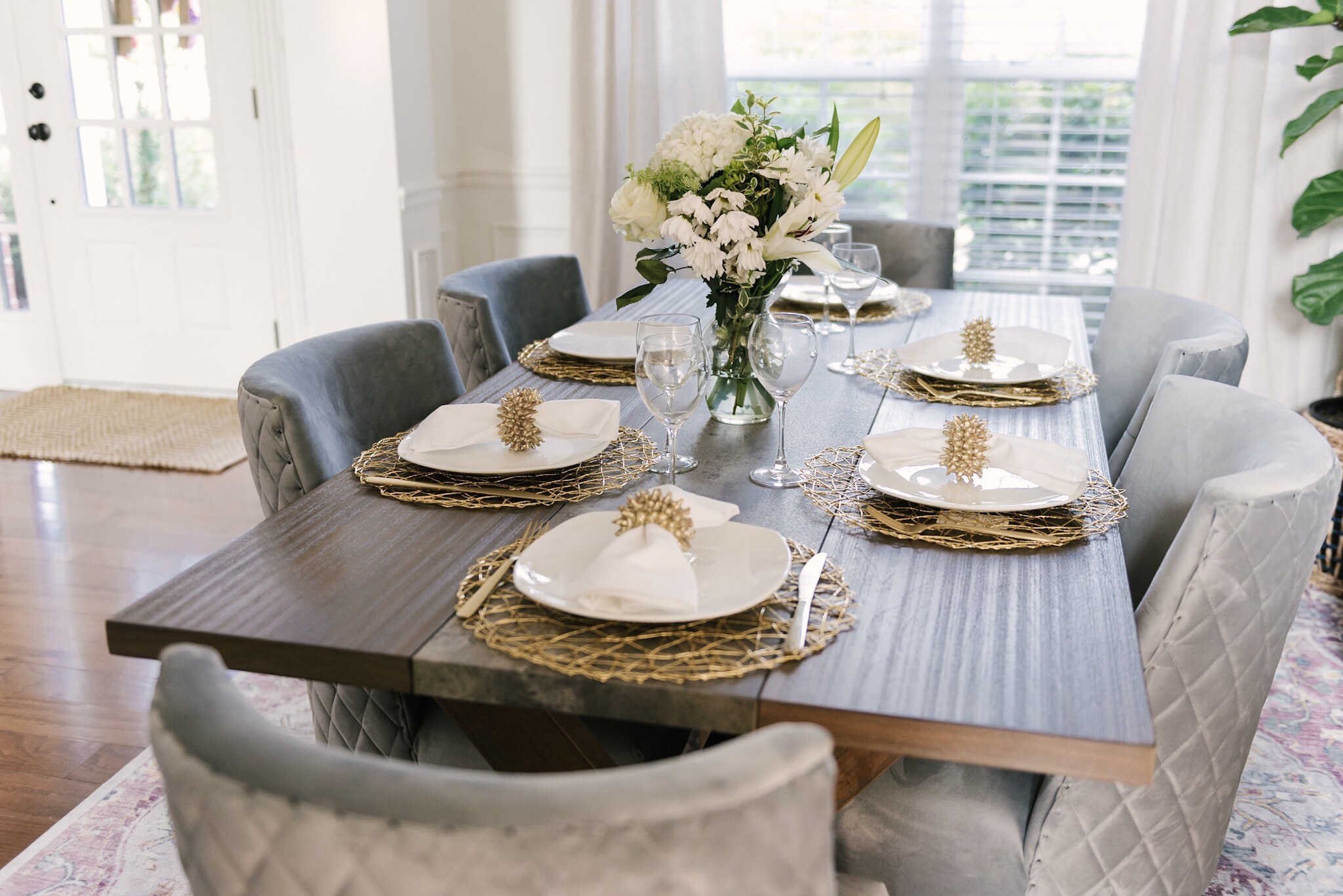 The table came shipped directly to my house via freight truck and you can order right off  AMAZON the love of my life. Amazon and I are seriously best friends.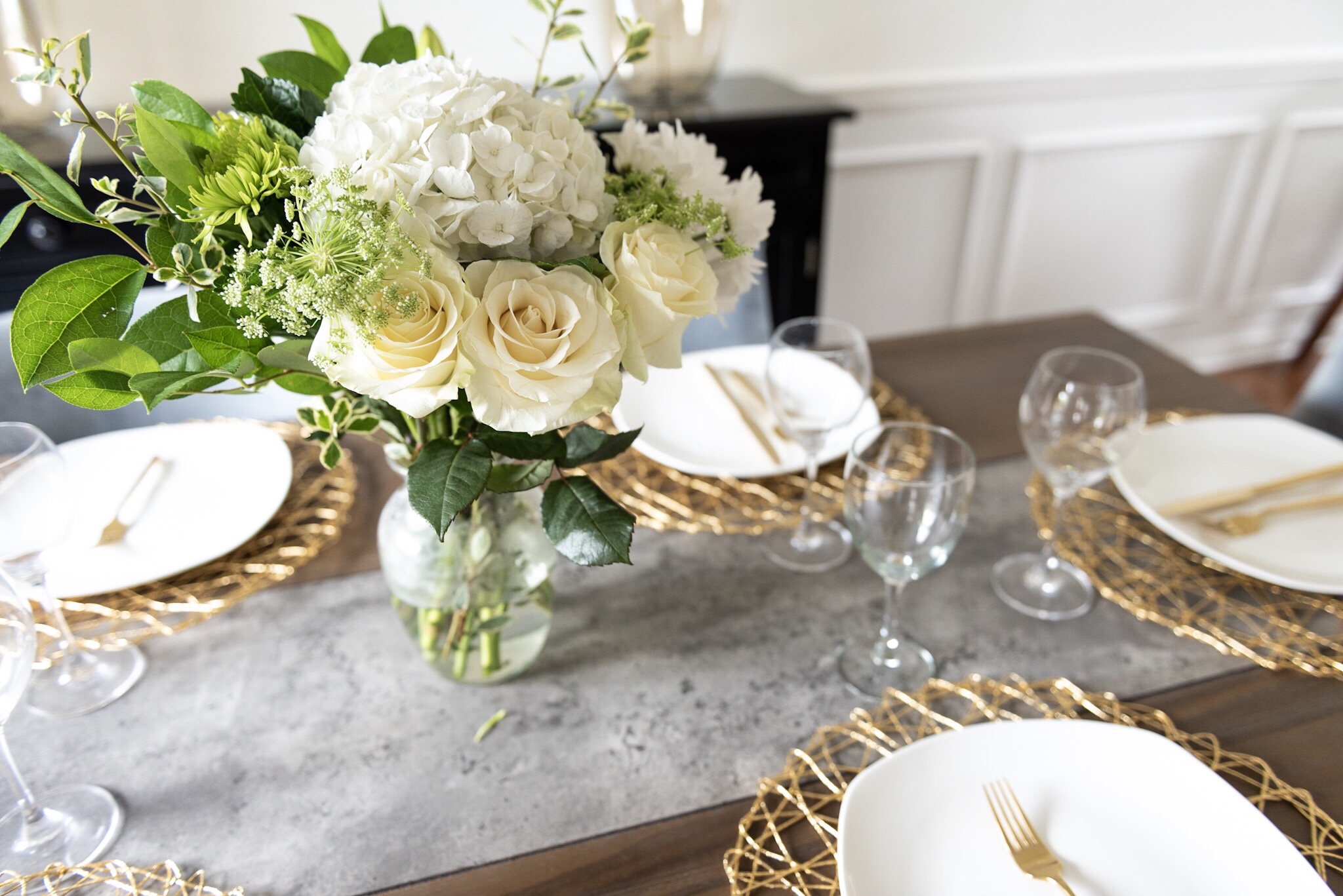 Quick Tip: If you do alot of shopping get Amazon Prime it pays for itself through the year subscription trust me.  Dorel Living offers amazing products from the cutest baby furniture to bedroom, kitchen, living and dining. I love that they are budget friendly and make a fab quality product.
Lamps & Mirror
Next up! One of my fave items to shop for was of course lamps. I used Lamps Plus
One of the by far easiest sites to use. They had so much to choose from but with help from Dipped Interiors they really helped me narrow it down to the style the suited my taste. These Aria Champagne Glass Jar lamps are just gorgeous in my space. They provide such a beautiful ambiance of soft light yet bright. I did two on for each side of my buffet. The mirror I went with is a gold. I wanted a pop of modern flare. This Janelle Gold Mirror really helps tie the room together. It looks even better in person.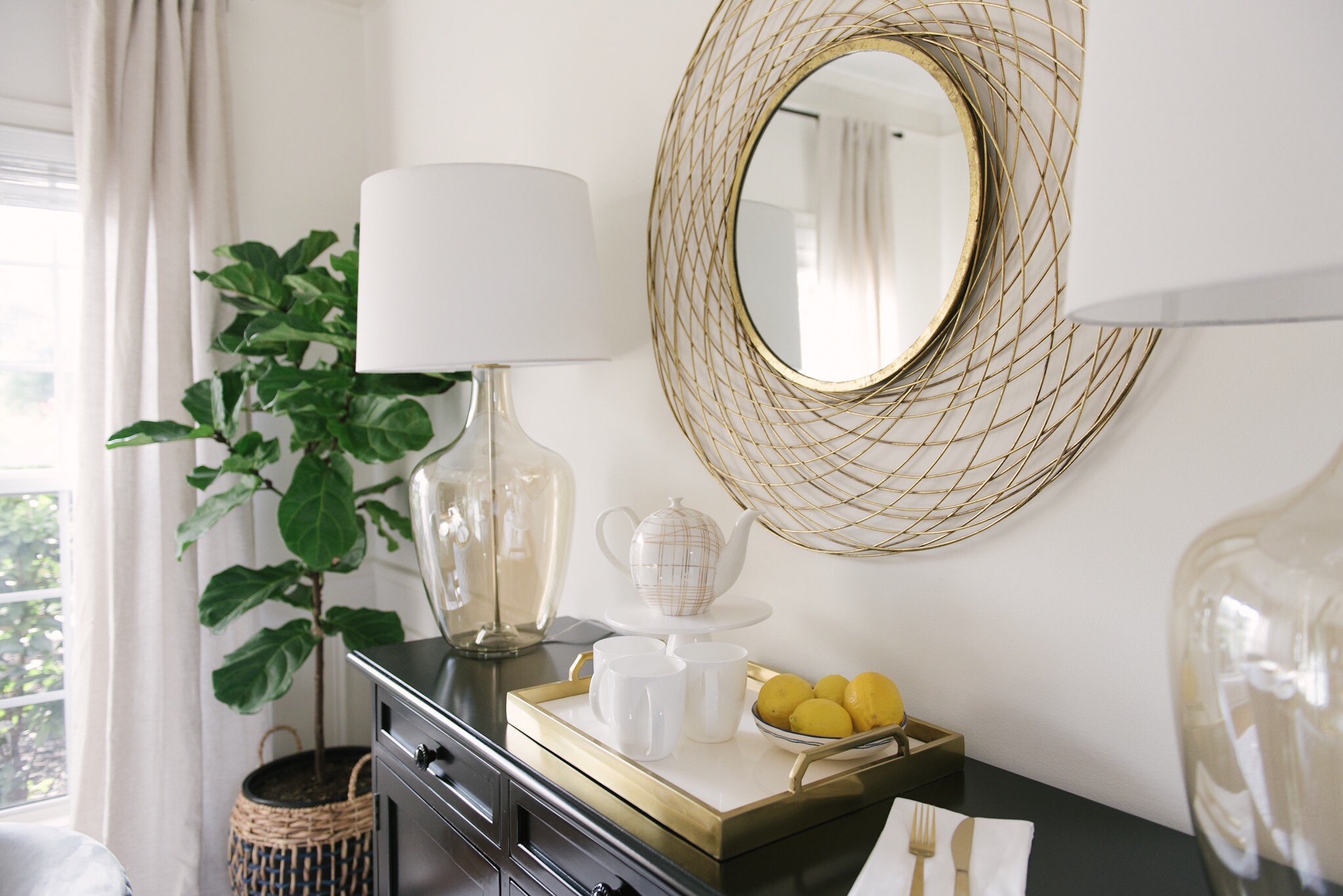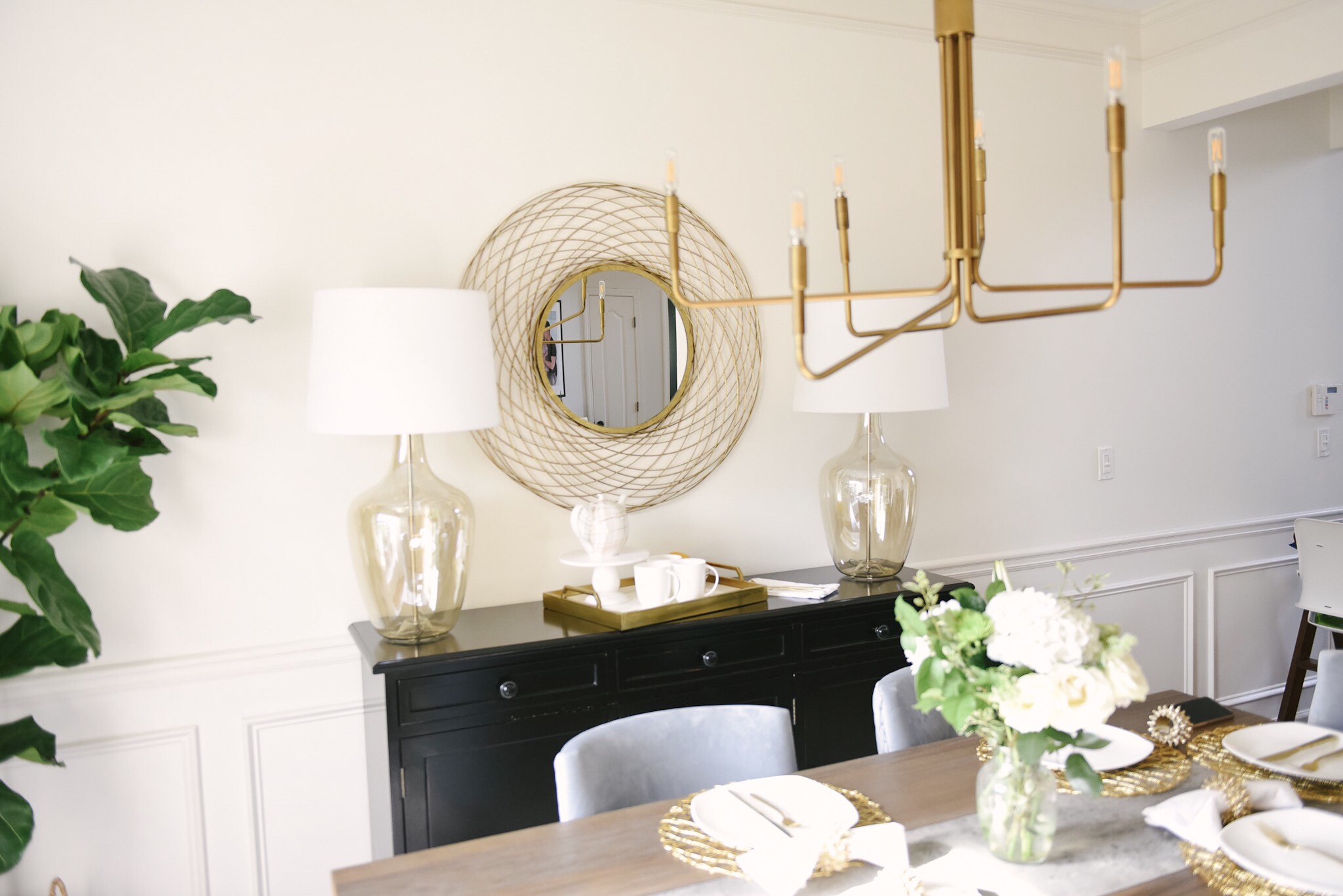 Quick Tip: When hanging a mirror you want the height to be in line with your sight. Trust me I learned the hard way and hung the mirror to high.  My friend over at Dipped Interiors had to help me out in adjusting the mirror height.
Rug
"The Famous Rug" I say this because it was the hardest part of what will work best plus there are so many gorgeous color schemes I could not decide. One thing I did know id I wanted to step away from my comfort zone and add a rug that had more of a colorful twist the problem was what colors scheme to go with. These days rugs have such a beautiful collaborations of colors. The rug I chose is by Home Dynamix   absolutely a beautiful rug.
One of the reasons I fell in love with this rug is its made of viscose a beautiful  soft silky rug that has pretty subtle shimmer to it. Ohhhh I just love it!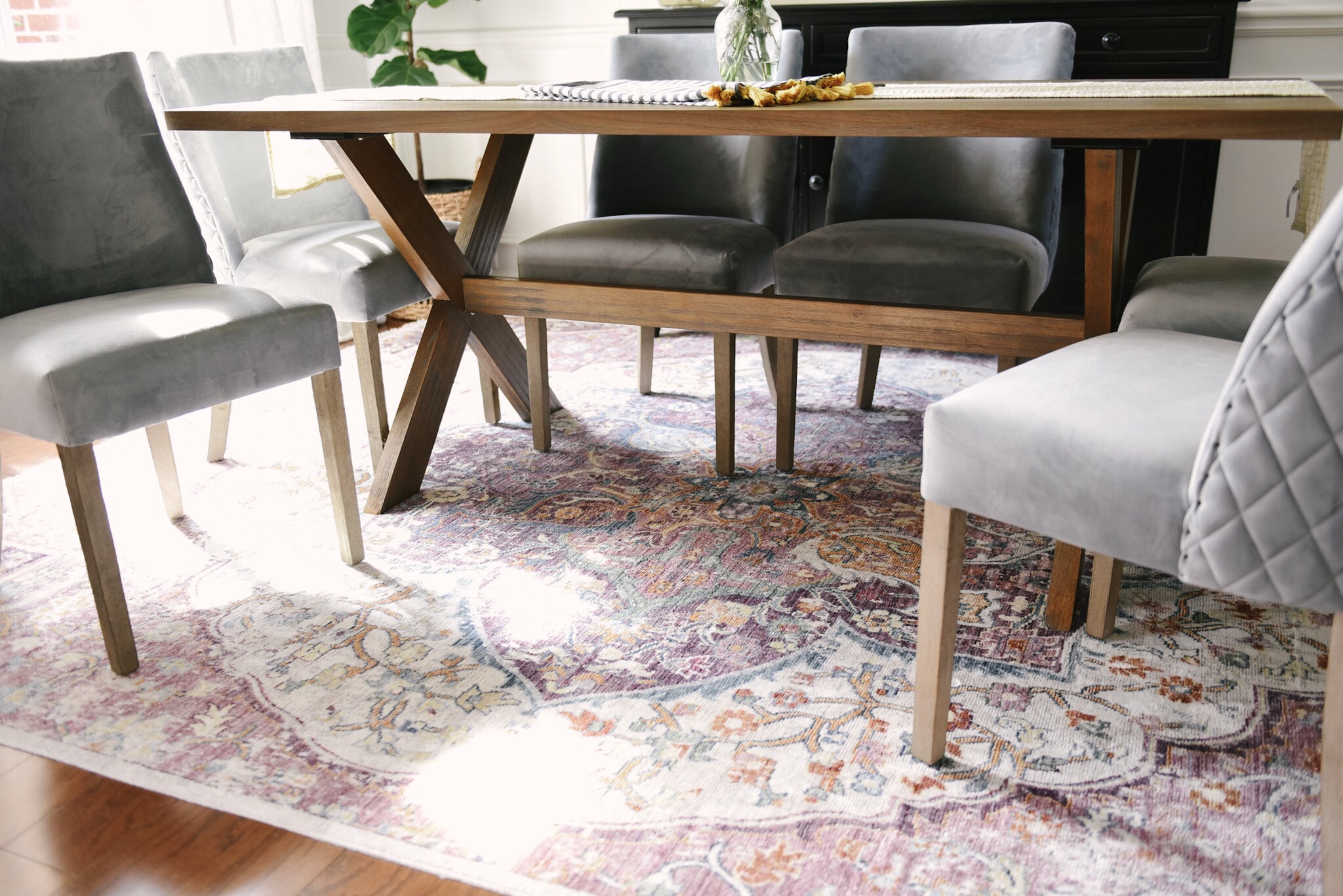 This rug is from the Nicole Miller Artisan Collection  it has such an array of soft jewel tones and hues of pink and blues. The design really helps make the table and chairs I chose pop. The rug show in is size 8×10 and shipped right to my doorstep.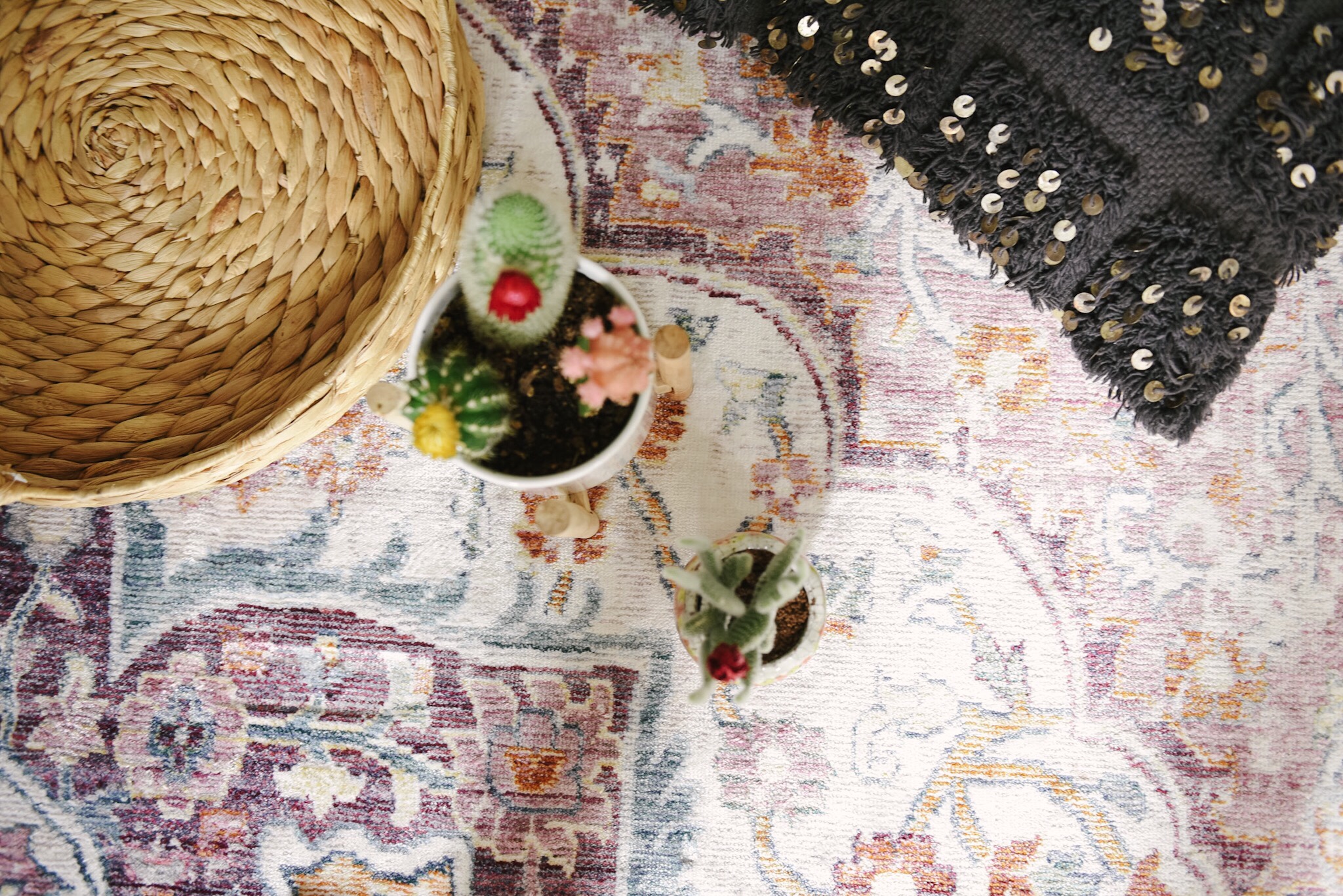 Buffet Console
Here is where my budget friendly idea kicked in. So when working with the design team they told me I can keep the black buffet I already had. I actually wanted to keep the buffett because it really just fits all our stuff perfectly. Plus i wanted to add some depth to the room with a rich black color.  Quick Tip: When re-glamming a room try to incorporate something you may already have to help save $$$. You can find the buffet at Crate & Barrell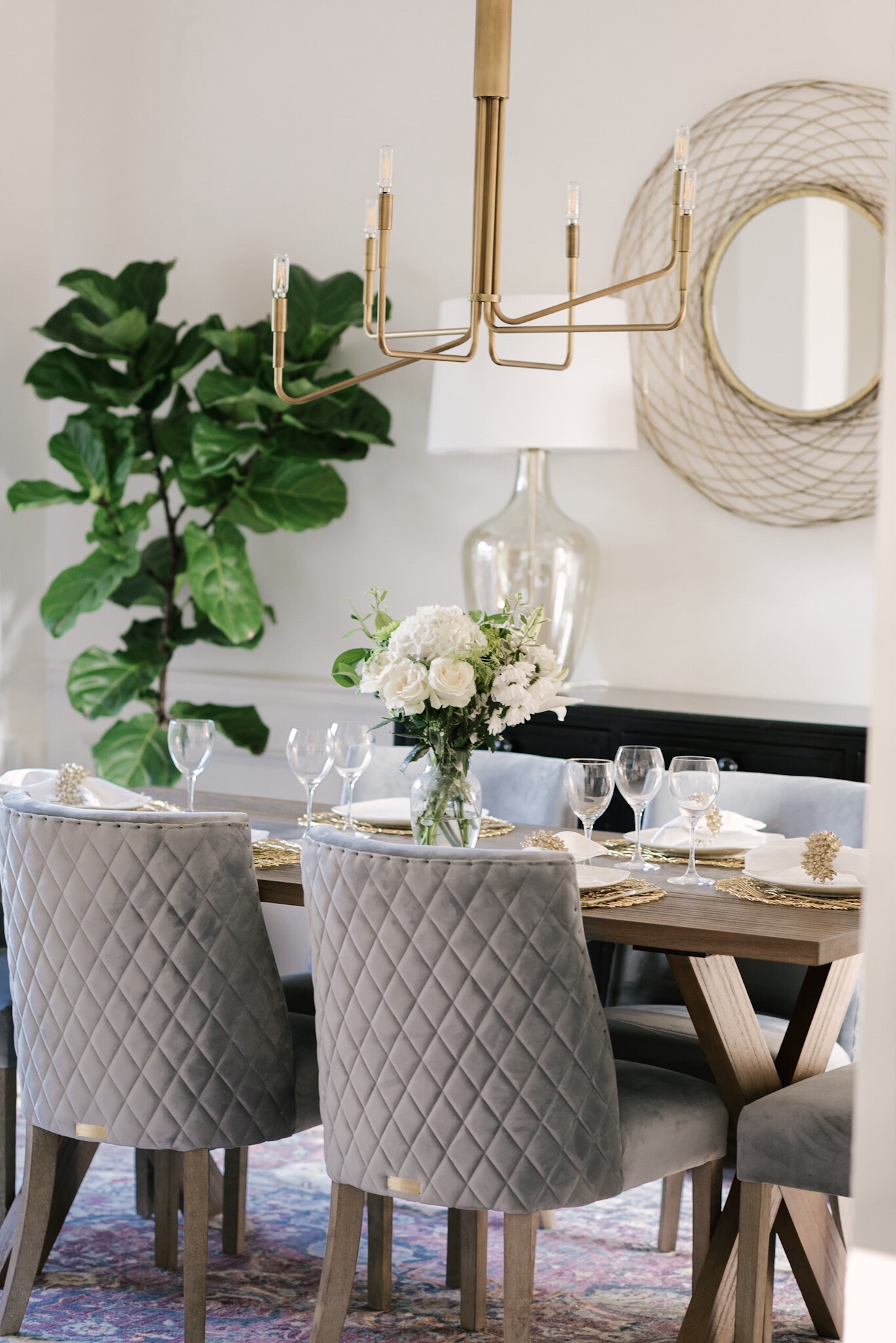 Curtains
I'm not a big curtain fan but for this room it needed a more formal touch so I went with my favorite of all time the classic Belgium linen.  I love the look and feel of linen. In my living room I have linen couches and they are amazing however hard to keep clean with two kiddos around so I have a professional service come out to clean. These curtain I got on sale at a store I frequent a lot lately and that is West Elm a Pottery Barn sister company. These curtains are in 108″ and I hung the rod I got off amazon very high to help open the room more. These curtain rod were a knock off of West Elm and for half the price. They are perfect quality.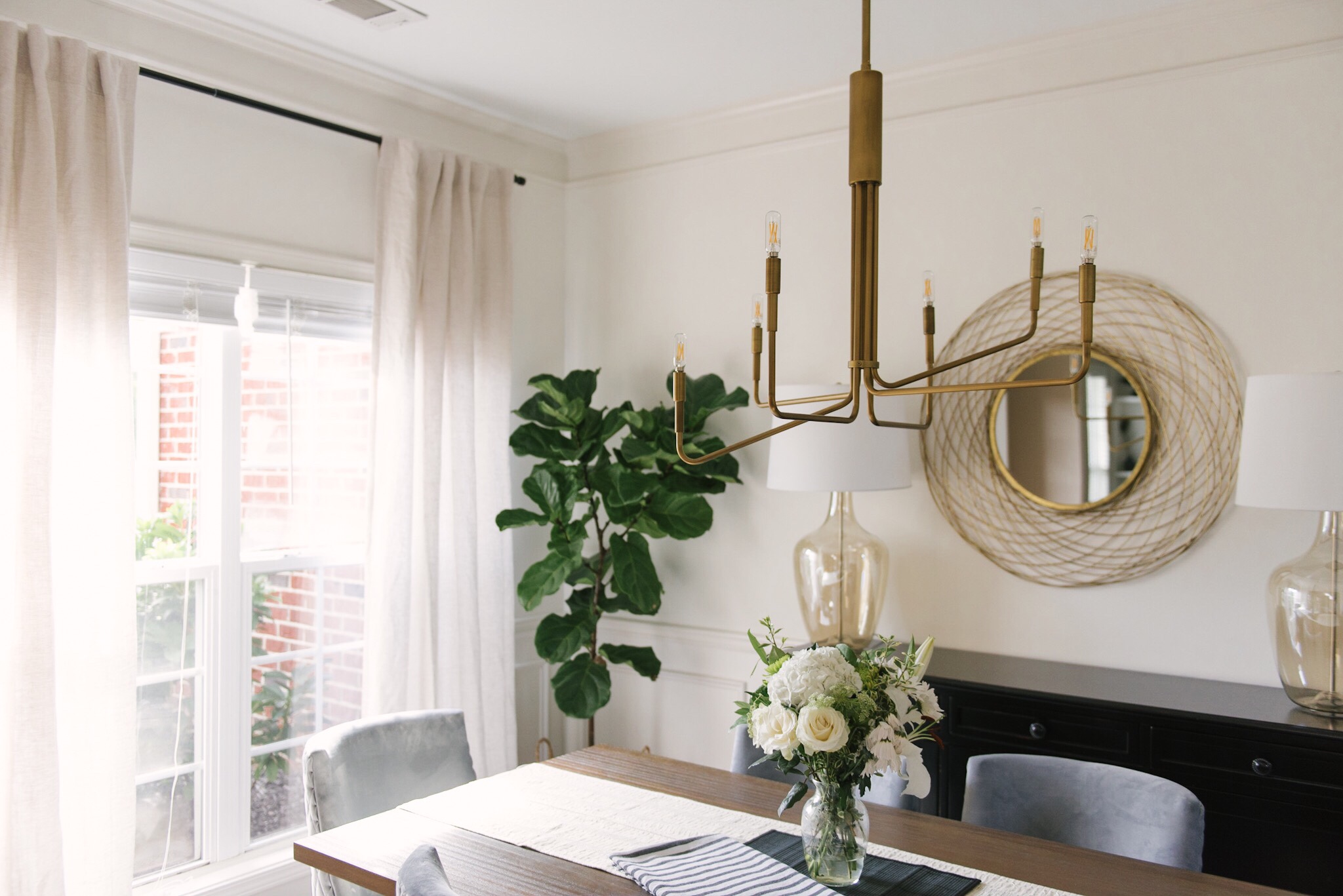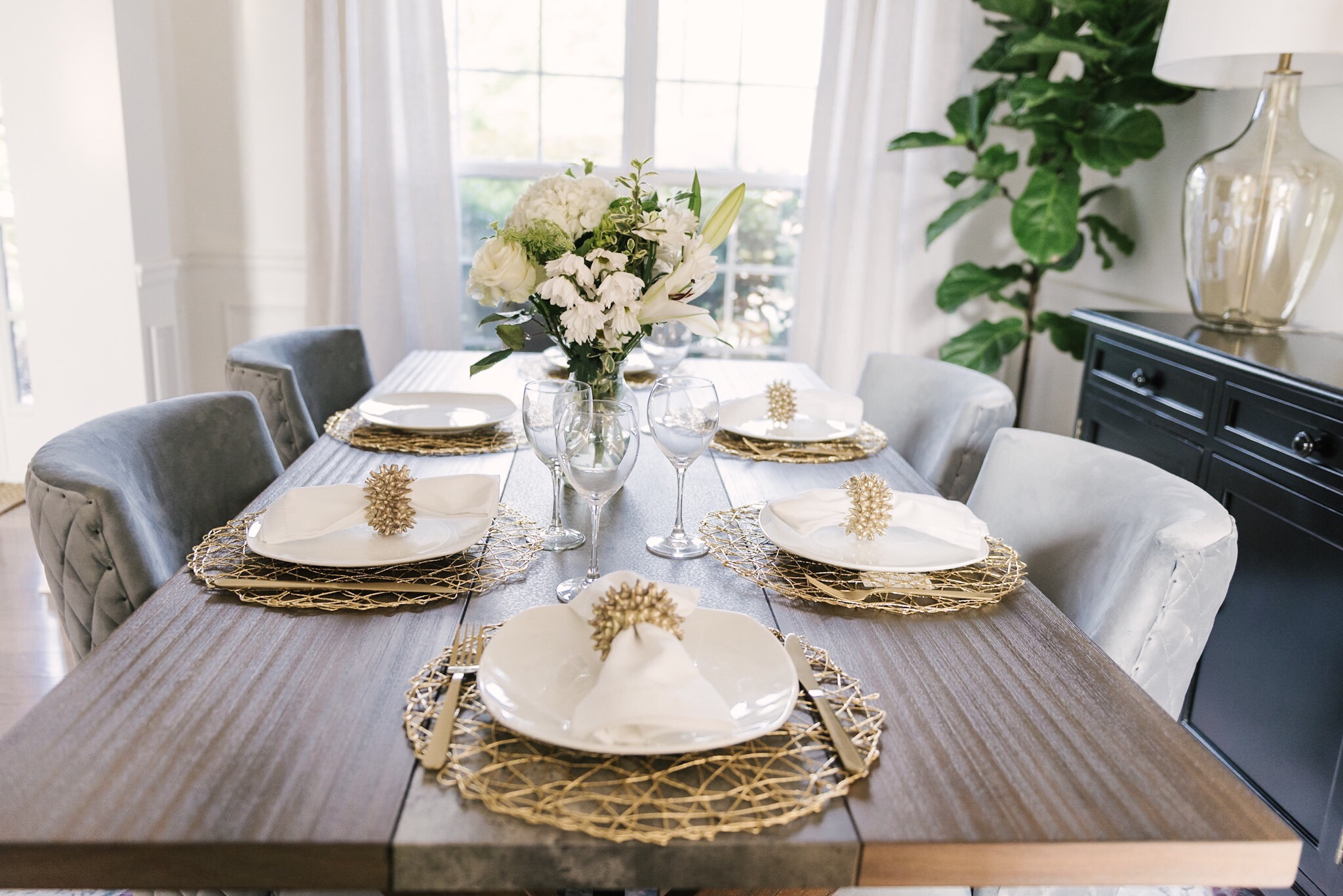 Paint
So here is the low down on paint I honestly should have my own paint store. When I look for paint I buy every sample its nuts my hubby may divorce me over my paint obsession. Anyway he loves this room so we are stating together. It is so hard for me to find a color I love. I knew I wanted a modern fresh airy feel so I went with the off white family of Benjamin Moore   The color I chose is my all time fave from the off white collection and that is WHITE DOVE  I even just love the name. All of my trim in my home is white dove so I wanted a creamy white for the walls in the dining area. White dove is a white white but it has a touch of yellow to be more creamy white than a black white if that makes sense. My only suggestion when painting a room is to make a color board.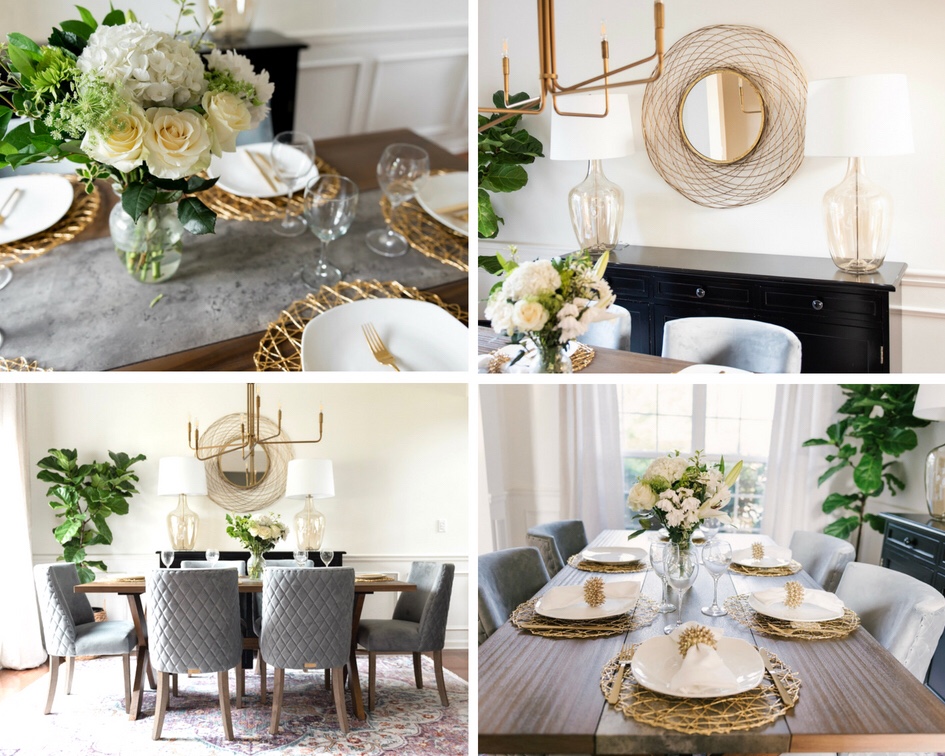 In Summery
Thank you for stopping by like always ans checking out my new revamped dinning room. I could not of done it without my friends  over at Dipped interiors. 
The room came out overall better than I even imagined it. If you are updating any rooms I want to hear what kind of projects your doing leave a comment below.
Love, Candace
This post was sponsored by Dorel Living, Lamps Plus, Home Dynamix life always all thoughts and opinions are of my own.